Crooked Letter, Crooked Letter by Tom Franklin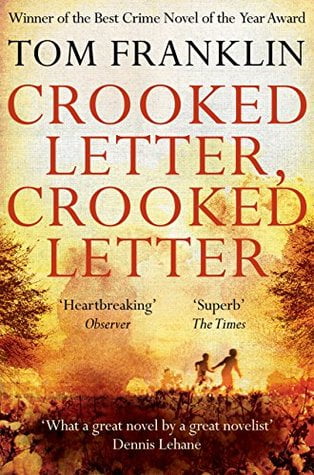 Crooked Letter, Crooked Letter by Tom Franklin
Do you like watching glaciers move? Like, in real-time? Are you a German teacher of English? Do you hate someone very much? (You can even combine the last two!)
Congratulations, this book is especially for you!
I actually enjoy a good story, lavishly told in good time. Me possibly drinking coffee or wine and enjoying myself, even losing myself inside a story told slowly, delightfully, perhaps playfully.
The story-telling here is mooooooooostly slooooooooow. Just slow. Not lavish, not delightful, not playful, just plain old slow.
Now, slow food? Good stuff! Fast food only makes me fat anyway. Slow food doesn't mean I have to enjoy chewing on a piece of granite – or reading this book.
'f slows the only prob, things mighta haven't look so bleak. Ain't just that, sirree, naw. The language. South'rn drawl my ass. Short sentences. Clipped sentences, eh? Yeah, boy, might work. If yall are proper pen pushers, heh?! Franklin, ma boy, you ain't a one.
Ok, enough of this. It's really annoying. I really, really hated those clipped sentences. They read like they hated their literary life for being, well, emaciated.
Well, all of that could still have been forgiven (I can almost see the small teaching, pupil-hating, glacier-watching demographic from the introduction nod their approval!) but let's take a look at the story itself:
Young Larry (40 today) goes on a date, girl goes missing, people start hating Larry, apart from his "special friend" Silas (at this point, the German teachers get glassy eyes, remembering) and even more special Wallace Stringfellow. The former being a sorry excuse for a friend, the latter being worse.
At the very beginning, poor Larry gets shot and Silas goes up and down memory lane for about 80% of the book, inspecting their miserable, boring lives in the past. Discovering "shocking" truths and a body. (Not, two, though. The mystery that all but ruined Larry's life never gets solved.)
The first words in chapter seven are basically a clue bat I, unfortunately, didn't fully appreciate:
"IT WAS 1982."
Yes, and we're at 41% of the book and feeling like we've had to wade through decades of boredom but, wait, those guys are about 40 and no point whatsoever has been reached or made so far – we're not safe yet, with decades before us yet! (Had I realised earlier and not only now, in hindsight, or given in to my instincts about bad books I might have preferred to watch grass grow but, alas, that exciting exercise has to wait for a worse book.)
Still chapter seven (did mention those chapters can take an hour or more of a fast reader's time (not to speak of the poor sod's life!): "IT WAS THE slowest week of his life," man, you're taking the words right out of my mouth.
Anyway, why did I even finish this turd? Well, truth to be told, my daughter has to read this book for school and being the stupid oaf I'm sometimes maligned to be, I mouthed off to her about how good this book must be, having great reviews on Goodreads and how she should just get reading it! Sorry, my dear Schn…, I'm sure to do it again but for this book you have my sympathy.
Drink, have fun with grass, do whatever you want with your life but don't make people read this book.
Oh, and if you really are a German teacher of English, I'm presenting you with a list of seven (because I can!) books better suited for your intended purpose which won't make your pupils hate you (even more, at least):