The Hobbit, by J.R.R. Tolkien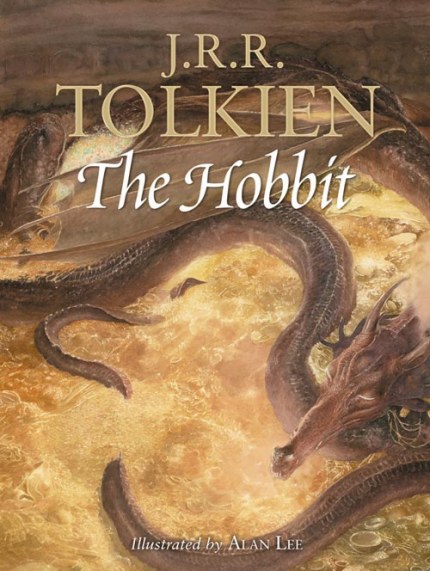 The Hobbit by J.R.R. Tolkien

My rating: 5 of 5 stars


What's left to be written about "The Hobbit, or There and Back Again", one of the great masterpieces of classic fantasy, written by the "founding father" of high fantasy, J.R.R. Tolkien?

"The Hobbit" was lauded by Tolkien's friend and fellow author C. S. Lewis, by poet W. H. Auden, celebrated for its influence on the entire fantasy genre.

To me, it was the metaphorical door to new worlds… I own both several physical copies as well as several ebook editions. I have read "The Hobbit" in both English and German.

The one edition I value the most is a German paperback by "DTV" from November 1974 with the title (mis-)translated as "Der kleine Hobbit" ("The Little Hobbit").
It has a ridiculous cover featuring a squint-eyed Smaug with butterfly wings and a tiny spider in front of him.




It's probably the worst cover in "The Hobbit"'s publication history.

This very book, though, is the one my mother read about 35 years ago while we were on holidays in the middle of nowhere in the Bavarian Forest. I asked her what she so concentratedly read and she showed me the cover – I was appalled! A children's book, obviously!

And she even recommended it to me! To me! Someone who had OBVIOUSLY outgrown childhood at my advanced age of… ten!

I harrumphed and condescendingly told her I had more serious things to do – like beheading the advancing army of stinging nettles with my stick-sword or fighting the fly amanita invasion!

Only after my mother likened the house of our relatives which we were visiting to Elrond's home (which wasn't too far off the mark!), after her telling me about the dark depths of Mirkwood, only after all of that did I take her up on her offer and read "The Hobbit" for the first time.

This is how I opened the doors to (high) fantasy for myself and Tolkien was followed by Terry Brooks, Robert Jordan, Joel Rosenberg and many many others. I taught myself reading with Sherlock Holmes but I really started reading with "The Hobbit".

Since then I've read it many times for myself and always felt at home. When my children were old enough, I read "The Hobbit" to them every night and, to make it more "real", I gave them laminated map print-outs from Karen Wynn Fonstad's wonderful "The Atlas of Middle-Earth" for every step of the journey. For easier collecting, all three got a binder.

I read to them every night and when we were finished with "The Hobbit", we moved on to "The Lord of the Rings". (Plus printed maps again, of course!)

Sometimes, I was throat-sore, sometimes I read way past their bedtime but we had a wonderful time. I kept reading to them for many years. (If you wonder: The magic didn't "stick" fully – none of them are true readers but at least they still own their binders of maps…)


Now my children are adults and I'm back to reading for myself. For me, it was time for a return to the magical world Tolkien created. It was time to return to the cherished memories of my late mother and those reading nights.


For YOU, though, it is now time to pick up a copy of "The Hobbit" and create your own memories.


Five out of five stars – and two asteroids to beat: 2991 Bilbo and 2675 Tolkien



View all my reviews