The Moomins and the Great Flood (Mumintrollen #1), by Tove Jansson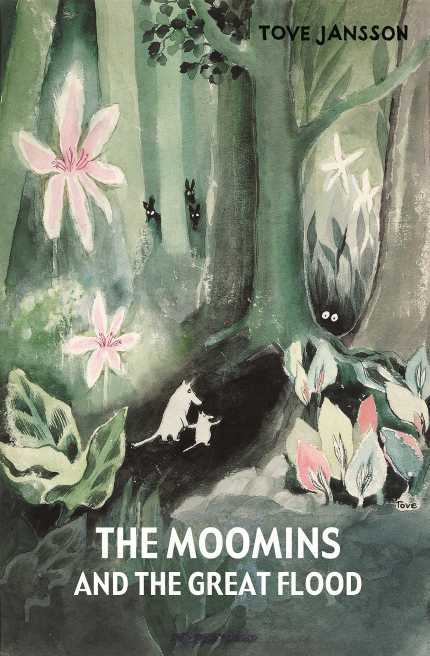 The Moomins and the Great Flood (Mumintrollen #1), by Tove Jansson
My rating: 5 of 5 stars

"The Moomin family I am trying to describe is simply happy without being aware of it. They are comfortable with each other, and they allow each other full freedom: freedom to be alone, freedom to think and feel in their own way and to have their own secrets until the moment they are ready to share them. No one ever causes another to feel guilty."
– Tove Jansson
The Mummins. It's a bit like "coming home" – familiar, full of warmth and love, security and safety, filled at best with the people we love.
I remember the old, somewhat sedate, translations from the 50's and 60's by Kurt and Vivica Bandler from early childhood, when my parents read these editions to me.
I loved the Mumins then and that has never gone away. Over the years I read the books every now and then when I wanted to read something I could absolutely rely on for quality and impact.
It was only late in life that it occurred to me to look into Tove Jansson as an author and I realised that Jansson must have been a fascinating person: School dropout at 16, then as a young woman studying at a technical school and working as an illustrator and painter.
At a time when this was still really dangerous, Jansson had an affair with a woman – the aforementioned Vivica Bandler, to whom she literally set a small monument in "Finn Family Moomintroll" (together with herself) in the characters Tofslan and Vifslan. Even after their separation, the two were bound by a lifelong friendship.
In 1956 Jansson met Tuulikki "Tooti" Pietilä, with whom she spent the rest of her life – 45 years in which she devoted herself intensively to the arts.
This is how the Moomin books came into being, including "The Moomins and the Great Flood", in which Moomin and his mother search for the missing Moomin's father, at first alone, but later with other companions. It is a short but literally groundbreaking tale that paves the way for the other Moomin works (books, picture books, comics, plays, etc. etc.).
It is, as usual, peppered with imaginative, lovingly crafted illustrations
For those who like the Mumins or would like to get to know them, this short volume is recommended as an introduction (or alternatively, my favourite: "Finn Family Moomintroll").
For those who might want to learn a little more about the whole "Mumiverse", Christian "Zepe" Panse's, Germany's leading "Moominologist", wonderful "Virtual Moomin Research Centre" (German-only, sorry) is highly recommended.
Five out of five stars.