My Child is Missing (Detective Josie Quinn #18), by Lisa Regan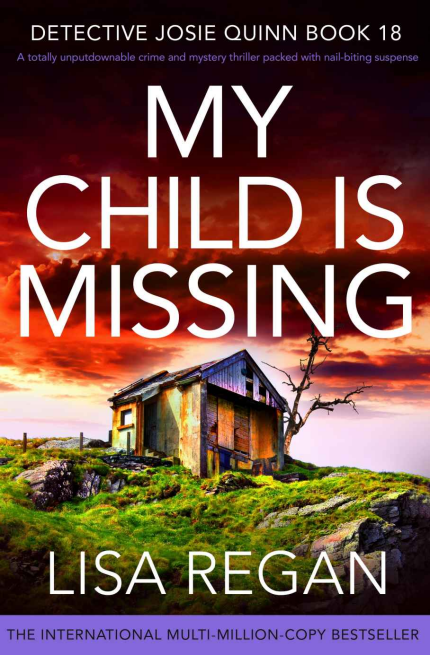 My Child is Missing by Lisa Regan

My rating: 3 of 5 stars


"My Child is Missing" is Lisa Regan's 18th novel about her Detective Josie Quinn and I've almost universally enjoyed reading every single one of them. Sadly, not so with this latest instalment which steadily ran its course without any highlights nor any major letdowns…

Sure, these novels have always been somewhat formulaic: Josie used to drink too much because of her gruesome past (which gets mentioned in this novel every five pages…), fell in love with her colleague Noah (whom she shot at one point), adored her grandmother (who was shot at another point), found her long-lost identical twin sister (who is a famous TV journalist – but nobody ever noticed…), her best friend Misty, ex-stripper and final girlfriend of Josie's ex-husband who died as part of the afore-mentioned gruesome past, and Misty's son from said ex-husband, the entire murder of cops (seems like the most fitting collective noun for US cops these days) are a happy family – it's complicated and yet these novels are usually thrilling and suspenseful to read.

Another nice touch to almost every other novel in this series used to be that someone from the extended team (be it a cop, a coroner, whomever) has a special role which lends the story authenticity and makes people much more relatable. Not so in this novel; unless – unlike me – you count the countless mentions of a certain deceased team member…

Be warned – spoilers ahead!


The almost-obligatory twist at the end was unconvincingly written towards, crudely done and I was so thoroughly disinterested at that point, I simply shrugged and read on.
And imagine my surprise when the book just ended at 85% – the remaining 15% were just advertising for and excerpts from Regan's other novels. While that was no real loss in this case, it borders on cheating the customer.
Barely three out of five stars.
P. S.: »
Did the hunt for [the Woodsman] have you desperately turning the pages and did you gasp out loud at the incredible twist?
«
No, I just gasped due to disappointment. And I hate it when an author breaks the fourth wall.
P. P. S.: »
A TOTALLY UNPUTDOWNABLE CRIME AND MYSTERY THRILLER PACKED WITH NAIL-BITING SUSPENSE
«
To whomever writes such crap: I sincerely and honestly despise you.
Ceterum censeo Putin esse delendam
View all my reviews