Things You Save in a Fire, by Katherine Center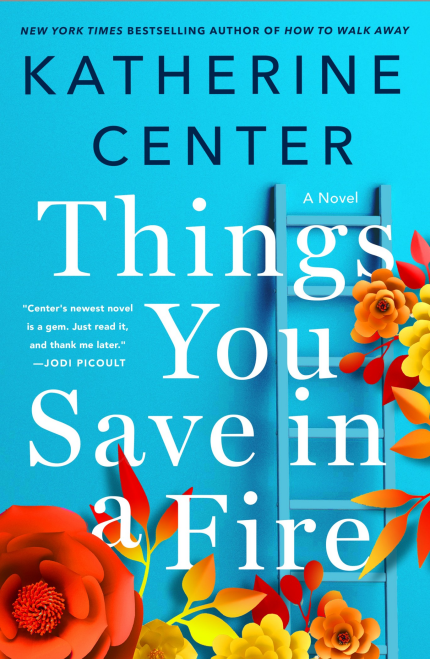 Things You Save in a Fire by Katherine Center

My rating: 1 of 5 stars


Well, this much is clear: I wouldn't bother to save this novel in a fire. This book is a whole new kind of bad. It actually made me annoyed and, at times, angry.

Sexualised violence, PTSD, cancer, sexism, general violence, stalking, abandonment, arson, insta-love, and forgiveness (for all of the afore-mentioned) – all in this one novel and badly done to boot.

Before anything else – even being human – Cassie Hanwell is an extremely successful firefighter. No doubt in large part due to the fact that this profession in the USA is dominated by men. According to the National Fire Protection Association (NFPA) in 2020 only 9% of the firefighters were female.

I couldn't easily find my native Germany's statistics but in the UK, the percentage of female firefighters is about 7%. So, I'm going to assume it's the same problem in the USA and in Europe.

Thus, Cassie – like many women – has always had (and still has) to work harder and longer than her male colleagues. She has also experienced sexualised violence at the age of 16.

Shockingly and shamefully, according to the US National Sexual Violence Resource Center, she has that in common with approximately one in five women in the United States has experienced completed or attempted rape during their lifetime. Additionally, 81% of women reported experiencing some form of sexual harassment and/or assault in their lifetime.

According to a report by the United Nations, globally, approximately one in three women experience physical or sexual violence by an intimate partner or sexual violence from a non-partner.


Ten years later at an award ceremony in her honour, to everyone's surprise, when confronted with her attacker, 26-year-old Cassie thoroughly beats him up on stage. She's given the choice to apologise or be fired (let's not go into the question of whether any of that is realistic…) but comes up with a way out: Since her mother needs help with an eye issue, she's going to move to her into another state and take a job there – at an all-male fire station the male captain of which loudly complains about women in his profession…

Prepared by her current female captain ("Don't ever be a girl! Be a robot instead!"), she moves and is confronted by a world I naïvely had hoped went extinct with the '90s.

»l looked the sheet over. "So, to succeed in my new job, I basically need to be an asexual, androgynous, human robot that's dead to all physical and emotional sensation."
She sat back in her chair and nodded, like, Yep. Simple.
I nodded.
"Just be a machine," she said. "A machine that eats fire."«


I will now go into spoilerish detail, so on platforms that support it, I'm going to use spoiler tags. On all others; beyond here be dragons!


This is, of course, helped by the fact that Cassie considers every single firefighter a hero and expects them always to be "the good ones": Hyperbolising every firefighter into a hero is doing them a disservice as it creates unrealistic expectations and puts undue pressure on them. While firefighters are undoubtedly brave and selfless individuals who put their lives on the line to save others, they are also human beings who experience fear, stress, and trauma like everyone else. By portraying them as infallible heroes, we risk overlooking the mental and emotional toll that their job can take on them. This can lead to feelings of inadequacy, guilt, and shame when they are unable to live up to these unrealistic expectations.
»
Somebody who's supposed to be a hero.
"«
By acknowledging their humanity and vulnerability, we can create a more supportive environment that encourages them to seek help when they need it instead of trying to compartmentalise or other forms of self-abuse. This very novel shows us an example of that.
»
"Firefighters are supposed to be the good guys."
«
This novel is not a romance but a misguided attempt at hero worship.
Due to their severe cases of mutual instant love, they don't have to talk or interact much either. There's no banter in this novel. There's no chance for chemistry to develop. They fall in love, jump into bed together (fade to black) and even before Owen gets discharged from the hospital after a life-threatening injury (Cassie of course saved his life!), he proposes to Cassie… (Using a "ring" made from the still-sticky foil of a yoghurt.)
Worst of all, though: None of the above is reflected upon in the novel – the extreme sexism, bizarre initiation rituals, toxic masculinity – it's all just accepted as preordained. It's just like people saying "boys will be boys" after witnessing a boy harassing a girl.
No, it's not that simple: We're not
born
as assholes but we
become
assholes. And whoever spouts irresponsible crap like the above is an immediate part of the problem.
One annoyed and angry star out of five.
Ceterum censeo Putin esse delendam
View all my reviews
[